Follow Us
Why are taxi drivers in Africa switching to Orange motorcycles?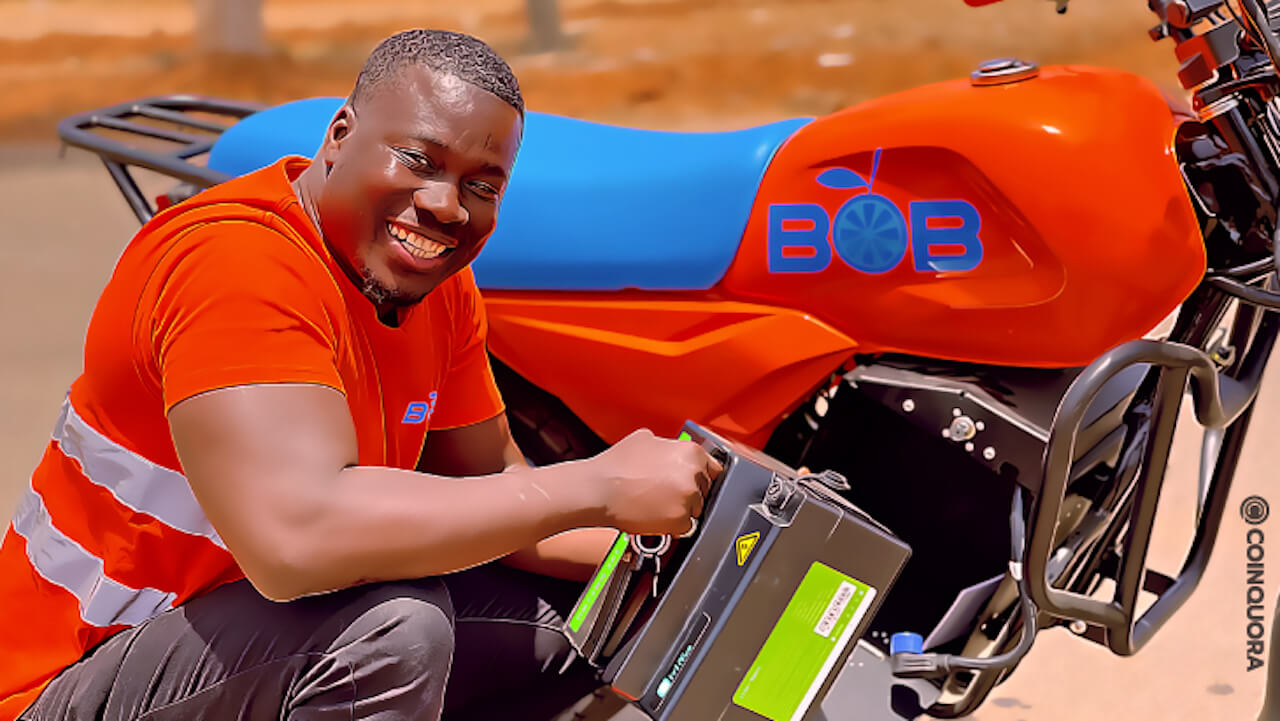 - Sub-Saharan Africa experiences economic growth putting a strain on logistical systems.
- Taxi and delivery services are prevalent in African countries.
- Bob Eco is the first for-profit social crypto enterprise that advocates for employment creation
When countries develop and their economies expand, some of the most explosive growth occurs in the logistics sector. This is because the need for transportation greatly increases as more people begin commuting for work, families become able to afford leisurely activities, businesses and individuals send more mail, and new infrastructure developments require the movement of raw materials.
This is most apparent in sub-Saharan Africa, where countries are currently experiencing extraordinary economic growth that is putting a massive strain on their logistical systems. Due to the explosive need for transportation, new opportunities have opened for local entrepreneurs, namely taxi and parcel delivery drivers who can earn an above-average income.
Today, there are millions of taxi and delivery services operating in African countries, with some driving up to 16 hours per day, often covering hundreds of kilometers daily. Many rely on cheap and outdated motorcycles that aren't equipped with modern emission-reducing technologies. These motorcycles are extremely inefficient and cost a majority of drivers' incomes to fuel.
On average, moto-taxi and delivery drivers earn USD 5.90 and spend USD 4.40 on fuel daily, leaving them with a daily take-home of only USD 1.90. After factoring in maintenance costs, drivers have almost nothing left to feed and clothe their families. Clearly, the current market growth in Africa demands new logistical solutions as the existing solutions are expensive and polluting.
Many new and existing logistics entrepreneurs have been turning to Bob Eco, a renewable energy and electric vehicle company that provides electric two and three-wheelers on a lease-to-own basis in developing countries.
Bob Eco is the first for-profit social crypto enterprise that advocates for employment creation. The platform offers asset finance across budding markets and provides 'underserved' people the opportunity to buy a Bob motorcycle and create a stable income.
An electric motor is different from a conventional petrol engine because it has instant torque. As soon as you accelerate, the power is outputted, and acceleration is instant, which means great power and speed in the motorcycle, perfect for city or off-road riding. Additionally, the motorcycle has no clutch or gears, which creates a more accessible, more intuitive motorcycle that is easier to ride for young new riders. And most important of all, the
Bob Eco's vehicles are painted in a bright orange color to promote visibility, are extremely easy to maintain, and are specially designed to meet the needs of taxi and delivery drivers. Further, all Bob Eco drivers gain free access to Bob Eco's extensive network of battery swapping and recharging stations. With no fueling costs, Bob Eco drivers nearly quadruple their take-home pay.
Thanks to their world-class vehicle designs and free battery and swapping stations, Bob Eco provides the first mass-market electric vehicles that cost less to acquire, maintain, and operate than their fuel counterparts. This makes Bob Eco the clear choice for drivers in Africa and has led to the massive demand for their products. However, Bob Eco's winning formula doesn't end there.
Bob Eco cares greatly for its drivers and is invested in their success. Bob Eco's staff actively supports clients in their endeavors, and Bob Eco's bikes all come with additional benefits. A single flat fee covers a motorcycle lease, high-quality safety gear, life and medical insurance for drivers and their families, and driving training in Bob Eco's Bob Academy.
Most drivers in developing African countries hit the road without any prior training. However, all Bob Eco drivers are required to attend driving courses at the Bob Academy. These courses resemble those that one might expect in developed countries and conclude with written and driven examinations. Before setting off on their own, all Bob Eco drivers are required to pass these examinations, ensuring that they are fully prepared for any challenges that they may face on the road.
With its all-inclusive package, Bob Eco is helping micro, small, and mid-size logistics entrepreneurs open successful businesses and provide for their families. With the savings that drivers experience by driving Bob Eco's world-class electric vehicles, drivers can better provide for their families and upgrade their homes with much-needed amenities such as running water. Once drivers have paid off their leases (maximum term of 30 months), they are invited to continue using Bob Eco's free charging stations. It means that they are able to operate their businesses without a cost, and the extra money in their pockets allows them to not only live better but save money and invest in their children's futures.
Press Inquiries.
The Press-team is available to answer request for information,interviews, filmmaking request and contacts with BoB and its affiliates
Contact Press