Follow Us
Bobcoin | BOBC is Available Now on SushiSwap!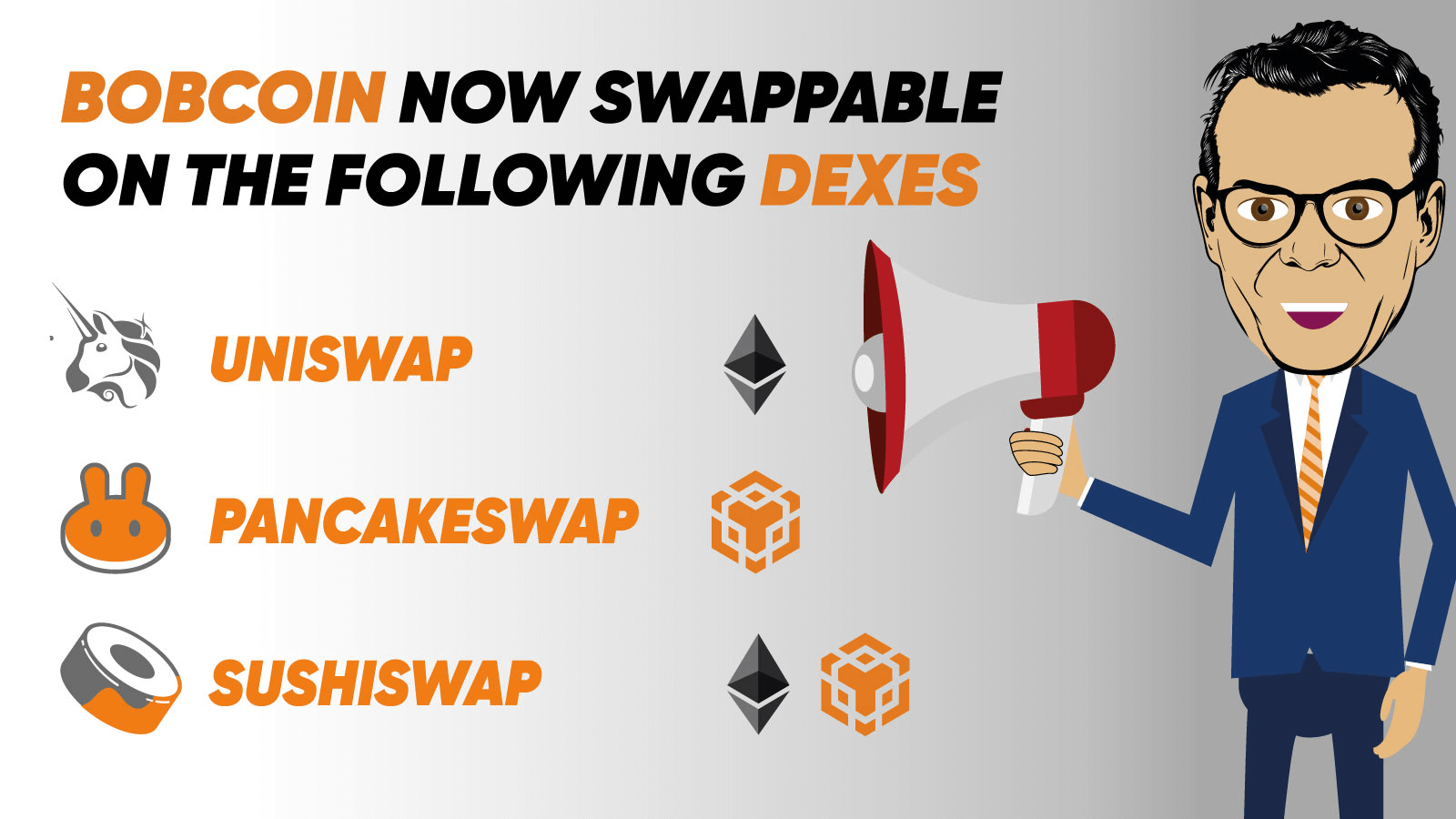 Start Swapping Bobcoin on SuchiSwap now!
Choose BOBC (Bobcoin) and ETH, connect your wallet and you are good to Swap!
Click here to start swapping!
What is SushiSwap? (SUSHI)
A Beginner's Guide
SushiSwap is a platform for buying and selling crypto assets such as Bobcoin. It uses software that runs on Ethereum and seeks to incentivize a network of users to run a platform for crypto asset trading.
To achieve this, SushiSwap uses a variety of liquidity pools similar to platforms like Uniswap and Balancer. Users lock their assets into smart contracts. Traders can then deal in cryptocurrencies from the liquidity pools, buying, selling, and swapping tokens as Bobcoins | BOBC.
SushiSwap doesn't need a third-party, central administration system. It is one of an increasing number of decentralized finance platforms (DeFi).
Holders of SUSHI cryptocurrency make the decisions regarding SushiSwap software. Anyone with a SUSHI balance votes on other users' proposed changes and can propose operational changes themselves.
How does SushiSwap work?
SushiSwap facilitates the trading of a variety of crypto for its users as its core function, mirroring traditional centralized exchanges.
However, they are different (decentralized) because users tie their tokens to a smart contract, locking crypto onto the software that traders can access. Traders pay a fee to deal in locked assets. That fee is then distributed to the pool's liquidity providers in proportion to their contribution.
SushiSwap Farms
Users who want to contribute to SushiSwap pools connect their Ethereum wallet to the farming software provided by SushiSwap. They then need to lock two assets (for example, a USDT and an ERH asset) into a smart contract. SushiSwap has a liquidity pool with equal value deposits of ETH and USDT.

Once assets are locked into a smart contract, traders can swap tokens in line with the protocol regulations. SushiSwap smart contracts take and receive equal amounts of tokens from a trader. This maintains a consistent total pool value.
Users who provide pool liquidity receive protocol fees and a percentage of the SUSHI that the platform puts into circulation on a daily basis.
Whenever a liquidity provider wishes to reclaim the funds they provided, they can. In addition, they receive the cryptocurrency earned from farming (their "harvest").

SushiSwap has an App called SushiBar. The App enables users to stake their SUSHI and earn xSUSHI tokens when they have harvested. The xSUSHI token is the sum of SUSHI tokens bought on the open market, plus a percentage of fees generated by the exchange.
Press Inquiries.
The Press-team is available to answer request for information,interviews, filmmaking request and contacts with BoB and its affiliates
Contact Press