Follow Us
Bob Eco's Commitment to a Greener Tomorrow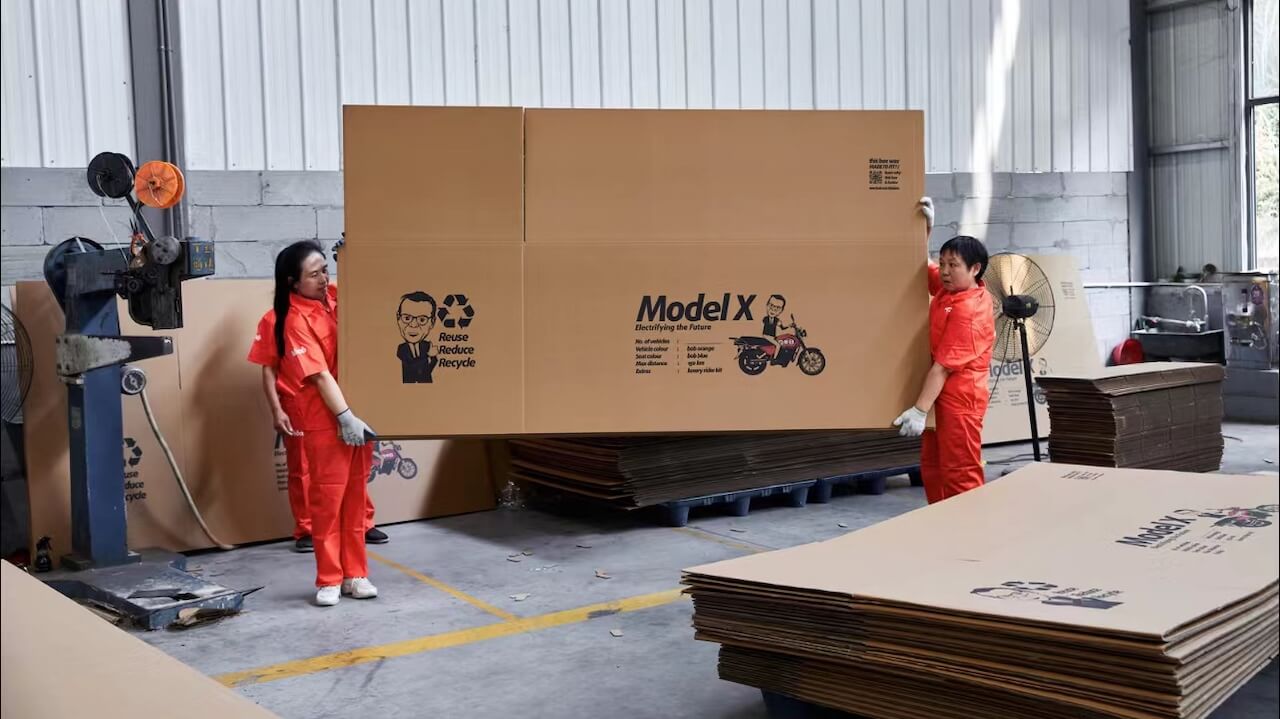 Bob Eco's Commitment to Sustainable Packaging and Environmental Responsibility
In today's world, where environmental consciousness has become paramount, companies across various industries are reevaluating their practices to reduce their carbon footprint and minimize environmental impact. One such company leading the charge towards eco-friendliness is Bob Eco, an electric vehicle manufacturer that is taking significant strides towards sustainable packaging. In this post, we will explore why Bob Eco is adopting optimized packaging, starting with its carton boxes for motorcycles, and how this aligns with its broader commitment to environmental responsibility.
1. Reducing Empty Spaces for a Greener Tomorrow
One of the primary reasons behind Bob Eco's decision to adopt optimized packaging is its dedication to the environment. The company is acutely aware that inefficiencies in packaging, such as excessive empty spaces in boxes, contribute to increased waste and a higher carbon footprint. By optimizing packaging, Bob Eco aims to use space more efficiently, resulting in fewer materials being used overall.
This strategic move not only reduces waste but also contributes to cost savings, a win-win situation for both the environment and the company's bottom line. As Bob Eco's motorcycles are packed into carton boxes, every inch counts, and by minimizing empty spaces, they are making a positive impact on their environmental footprint.
2. Aligning with Sustainable Development Goals
Bob Eco's commitment to optimized packaging also aligns with the Sustainable Development Goals (SDGs), a global agenda to address pressing environmental and social issues. Specifically, Bob Eco's initiative contributes to SDG 12 - Responsible Consumption and Production. By using packaging that minimizes waste and can be easily recycled, the company actively supports the global effort to reduce garbage and promote sustainable practices.
Through responsible packaging, Bob Eco is doing its part to ensure that its operations are in line with international sustainability targets, demonstrating its dedication to a more environmentally conscious future.
3. Paving the Way for Carbon Credits
Bob Eco has its sights set on the carbon credit market, and optimized packaging is a strategic step in that direction. Carbon credits allow companies to offset their greenhouse gas emissions by investing in initiatives that reduce or capture carbon dioxide from the atmosphere. By minimizing waste and reducing the environmental impact of its packaging, Bob Eco is laying the foundation for future involvement in the carbon credit market.
This forward-thinking approach not only demonstrates the company's commitment to environmental responsibility but also positions Bob Eco as a responsible corporate citizen in the fight against climate change.
4. Co-founder Bob Ultee's Vision for a Cleaner World
At the heart of Bob Eco's commitment to sustainable packaging is co-founder Bob Ultee's vision for a cleaner and more sustainable world. Bob Ultee's dedication to environmental responsibility is evident in the company's mission and values. He believes that true progress in combating climate change can only be achieved through a holistic approach that addresses every aspect of a company's operations.
Under Bob Ultee's leadership, Bob Eco is not merely a manufacturer of electric vehicles; it is an advocate for positive change in the industry and a catalyst for environmentally responsible practices.
5. Conclusion: Bob Eco's Comprehensive Approach to Climate Action
In conclusion, Bob Eco's decision to adopt optimized packaging for its motorcycles reflects its comprehensive approach to combat climate change. The company's commitment to minimizing empty spaces, aligning with sustainable development goals, and preparing for the carbon credit market demonstrates its dedication to environmental responsibility.
Bob Eco is not just in the business of producing electric vehicles; it is actively contributing to the fight against climate change in every way possible. By focusing on sustainable packaging, Bob Eco sets a powerful example for businesses worldwide, showing that every step towards a greener future counts. As consumers and investors alike seek environmentally responsible choices, Bob Eco stands as a shining example of a company that walks the talk when it comes to environmental stewardship.
Press Inquiries.
The Press-team is available to answer request for information,interviews, filmmaking request and contacts with BoB and its affiliates
Contact Press